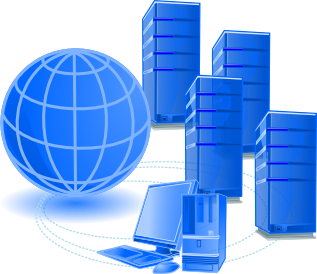 Server Systems and Services
We deliver a wide range of server solutions and related services. In short, we can nearly any kind of server system you may need, we can also take care of the operation of your systems, or assist on a consultancy basis.
Standard solutions
We can deliver a long range of standard solutions. Standard solutions can save a great deal of time and effort when the need truly fits a standard solution. Most standard servers we deploy are:
File servers(AOE, SMB, NFS, FTP)
Mail servers(ESMTP, POP3, IMAP4)
Print servers(CUPS/SMB)
Database servers(MySQL, PostgreSQL)
DNS Servers(Bind9, PowerDNS)
However, we can also offer standard configurations for other services.

We also offer monitoring of standard services like HTTP, DNS, Generic TCP/UDP, SSL,.. with reporting via Email, SMS,.. Click here to read more.
Custom-tailored solutions
We offer solutions completely custom tailored to your every need. Simply let us know what you need, or what your goal is, and we will come up with the perfect solution. You can find more information in the different subpages, otherwise feel free to contact us and we will get back to you with any information you wish
Services
We offer a wide variety of services. We can offer hosted Backup, hosted Servers, general Administration and Configuration and Monitoring of your services. If there are any other service you may need, we can probably help.

If you have any questions or wish additional information, Contact us and we will promptly get back to you.